Wipster Company Overview
Wipster adds a collaborative layer to your video workflow and shortens the feedback loop between creatives and stakeholders by up to 90%. By providing an integrated and centralized hub, Wipster complements Adobe's video creation and editing tools, resulting in a workflow designed for speed, efficiency, and scale.
Adobe creative users can effortlessly stay up-to-date across multiple projects, teams, and tasks without having to leave their editing suite. Performance analytics are automatically pulled back into Wipster, empowering creative teams with actionable data for a more agile creative process, and a more thorough and transparent workflow.
Case studies:
LEAP Spark
Lull
KQED
Truescape
AGuyIKnow
Victoria University of Wellington
Less Mills
iFIT
Adobe Integrations Overview
Manage your video review, collaboration, and approval directly inside Adobe Premiere Pro CC or Adobe After Effects CC. Wipster takes care of the encoding, uploading, sharing and collating of feedback behind the scenes, while comments appear as markers on the NLE timeline. Editors can reply to feedback and mark off items in the automated to-do list for a fully collaborative and transparent workflow with the rest of the organization.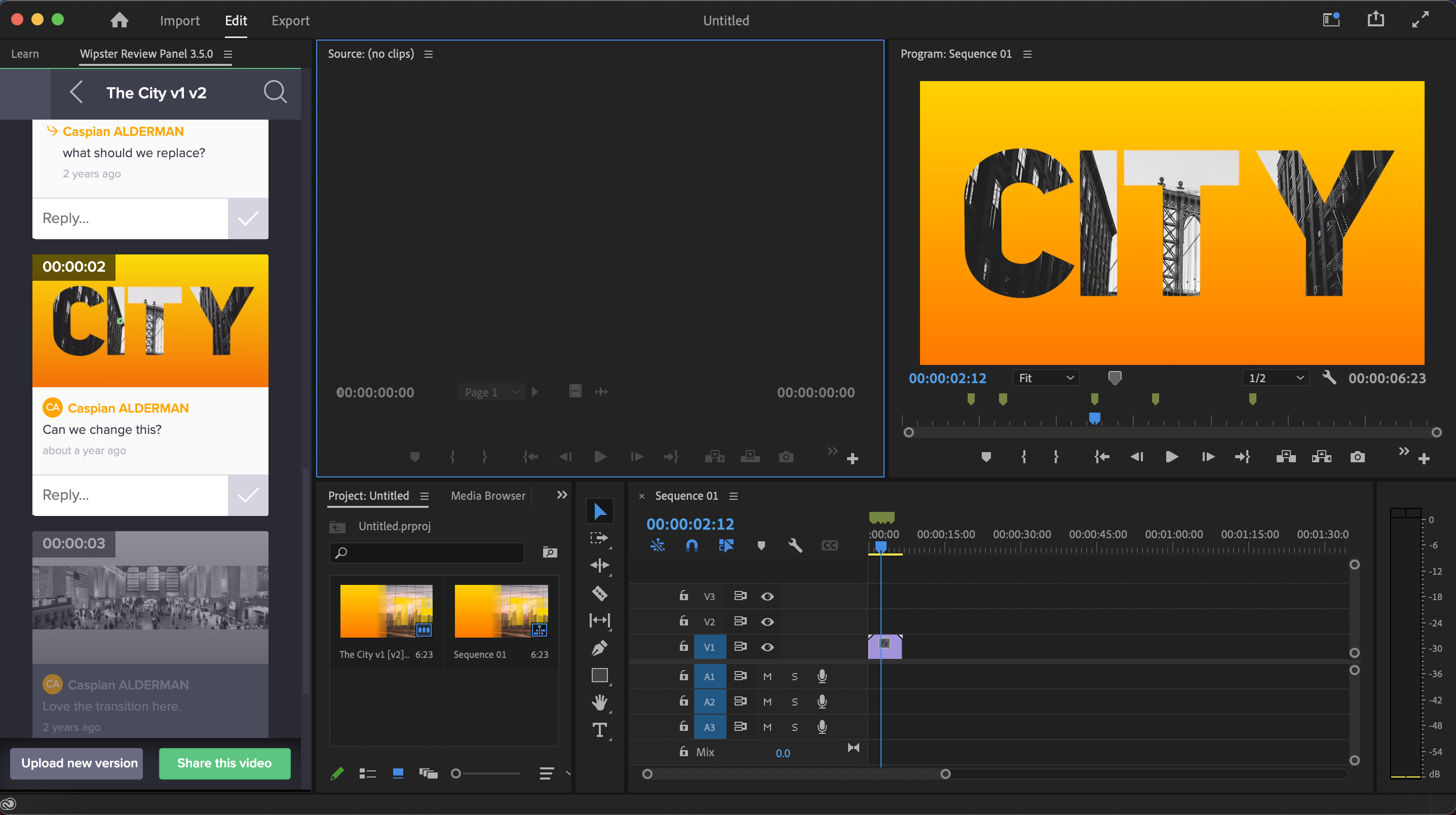 Key Differentiators
Wipster is the only video platform to bring together the creative, collaborative, and performance aspects of video into one intuitive workflow.
Video review tools – Simplify video review and collaboration cycles with frame-accurate commenting, version history, and work-in-progress stages. All available from inside Adobe Premiere Pro CC and Adobe After Effects CC, using our Wipster Review Panel integration.
Publishing and analytics – Publish to leading video and social media platforms with one click and easily see how your videos perform in real-time with actionable analytics with our in-app HealthScore.
Media Asset Management – search, organize, tag, and categorize your entire media library, allowing easy access to any video and any version at any time.
Adobe Products we support:
Adobe After Effects
Adobe Premiere Pro
Resources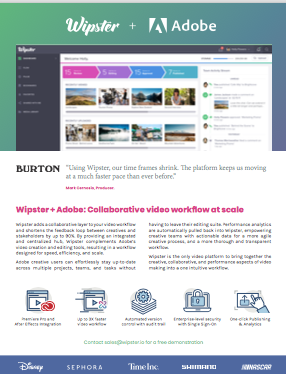 Brochure
Wipster + Adobe: Collaborative video workflow at scale