SDVI Corporation Company Overview
SDVI Corporation was founded on the premise that there is a better way to run and optimize media facilities. Traditional media supply chains consist of specialized third-party applications, and fixed technical resources. Next generation, virtualized infrastructures enable programmable assignment of the compute, storage, and networking resources required to support processing applications. The SDVI Rally media supply chain management platform provides this capability, including advanced analytic tools for optimizing the supply chain. Virtualized supply chains managed by SDVI Rally dramatically reduce time-to-revenue while increasing asset utilization and efficiency. SDVI is a privately-held company, based in Silicon Valley, California, with offices in the US and Europe.
Adobe Integrations Overview
Rally Access links automated supply chain functions and the metadata they produce to the necessary manual processes they often require. Presented through Adobe Premiere Pro CC as a Panel, Rally Access combines content and metadata on the timeline to guide users to exactly the right moment for verification and editing.
Key Differentiators
SDVI Rally is a cloud-based platform that manages and optimizes your media supply chain. Rally dynamically deploys the necessary applications and infrastructure to build a supply chain that provides all of the media processing your workflow requires. These resources can be located on premise, in a public cloud, in a private cloud, or in any combination. Rally constantly analyzes and optimizes, making sure that only the infrastructure required is deployed, scaling up and spinning down your preferred applications and resources as volume fluctuates. Applications and resources can be sourced from SDVI, or Rally can combine the licenses that you already own with appropriate storage and compute resources. Consumption-based pricing means that you pay only for what you use, and asset-tracking and reporting provides you with accurate costs down to the content minute.
Adobe Products we support:
Adobe Media Encoder
Adobe Premiere Pro
Resources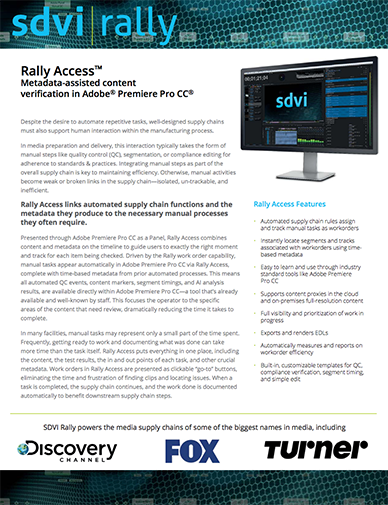 Flyer
Rally Access: Metadata-assisted content verification in Adobe® Premiere Pro CC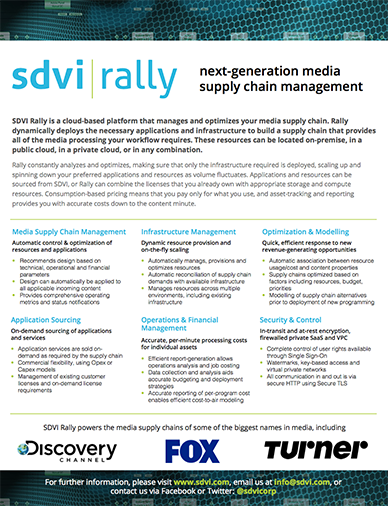 Flyer
Next-generation Media Supply Chain Management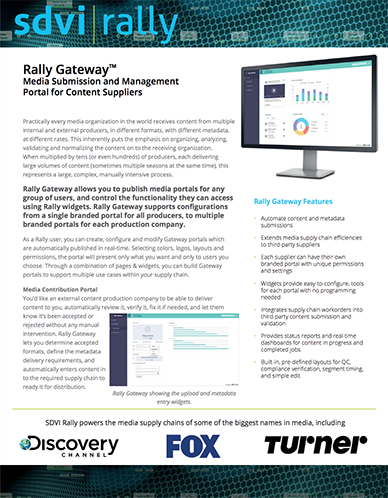 Flyer
Rally Gateway: Media Submission and Management Portal for Content Suppliers