Evolphin Company Overview
Evolphin Zoom combines Digital, Media and Production Asset Management into a single platform connecting marketing programs with content production, distribution and extensive analytics. Our target verticals are Healthcare, Media & Entertainment, Broadcasting and Sport. Highly secure, the solution is massively scalable and deployed on-premises, in the cloud, or hybrid. Zoom manages any file type, versions, and metadata, including images, audio, 4K/8K video, Office documents, and any creative projects with rich plugins for all Adobe applications and Cinema4D. Built-in collaboration tools allow commenting, review, and approval on any device, in real time. Completely AI enabled, the platform is tightly integrated with Storage, Archive, Transcoders and most infrastructure systems. For those customers wanting to transition to Adobe workflows from Avid, Zoom is the bridge.
Adobe Integrations Overview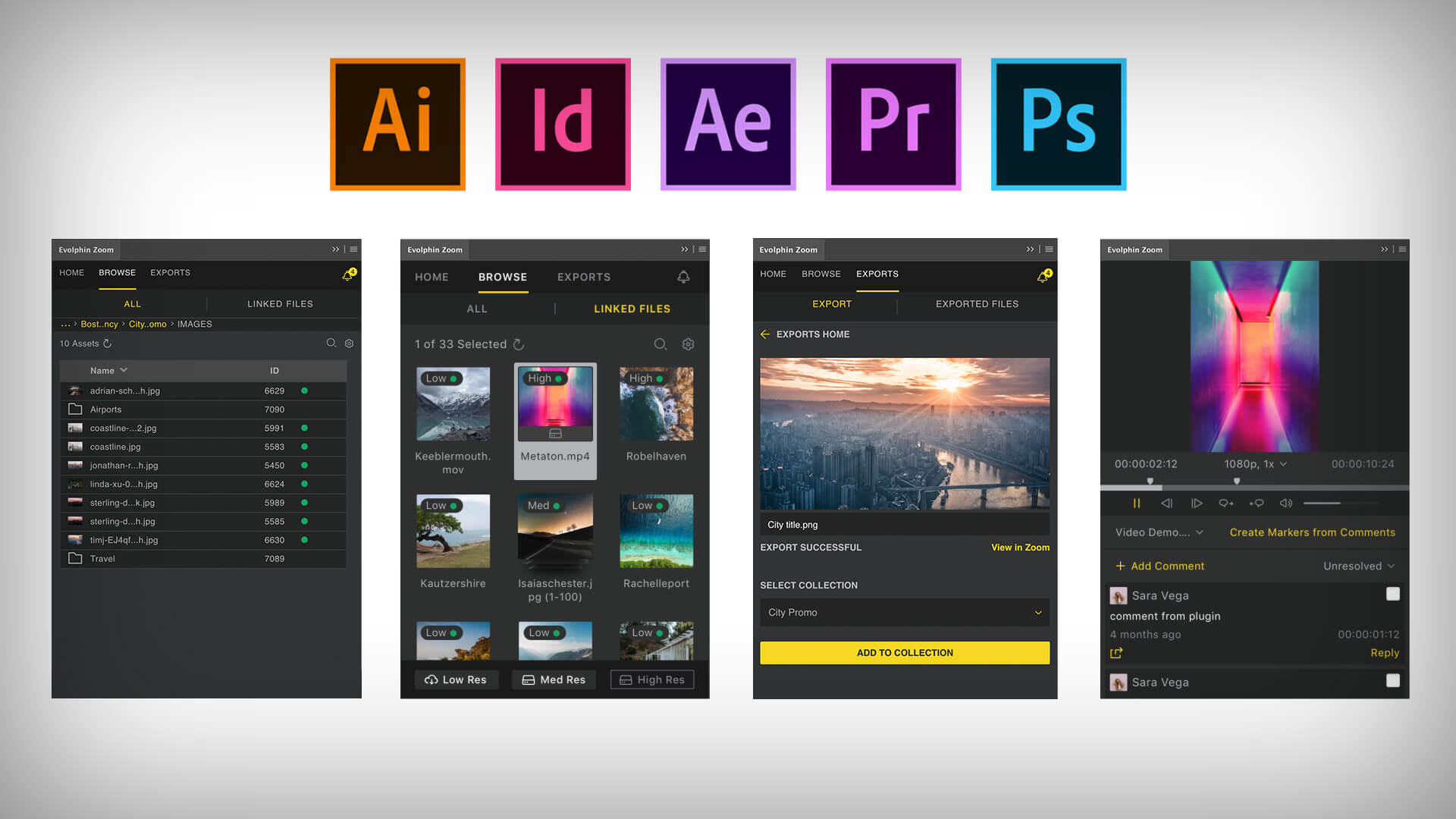 With panel plugins for Adobe Premiere Pro CC, Adobe After Effects CC, Adobe Illustrator CC, Adobe Photoshop CC, Adobe InDesign CC, and Adobe InCopy CC, no matter what creative application is being used, Evolphin Zoom allows you to work smarter and faster without having to leave your app. Every Evolphin Zoom plugin has the same powerful features with robust search and filtering, enabling creatives to find the media they need instantly and add it to their project. Comments from reviewers using Evolphin Web Collections are pushed back to the creative's app in real-time, making collaboration a breeze. The project stays synced to the DAM/MAM and takes advantage of Evolphin Zoom's industry-leading version control.
Key Differentiators
Work in progress and finished content
Automated storage tiering, and easily manage archive/restoration
Deep integration with the Adobe applications and others
Integrated desktop, web and mobile clients
Unified repository able to manage and process any type of content including images, audio, and video production pipelines
Multiple deployment models — either on-premises, in the cloud, or a hybrid
Evolphin Zoom can bridge Avid and Adobe workflows, and bring multiple departments into one streamlined creative workflow
Evolphin Zoom reduces storage growth by up to 45% with our patented deduplication and version control
Adobe Products we support:
Adobe After Effects
Adobe Audition
Adobe Media Encoder
Adobe Premiere Pro
Resources