ASUSTOR Company Overview
Founded in 2011, ASUSTOR Inc. was established via direct investment from ASUSTeK Computer Inc. The ASUSTOR brand name was created as a portmanteau of "ASUS" and "Storage". ASUSTOR is a leading innovator and provider of private cloud storage (network attached storage) and video surveillance (network video recorder) solutions, also specializing in the development and integration of related firmware, hardware and applications. We are devoted to providing the world with an unparalleled user experience and the most complete set of network storage solutions possible.
Adobe Integrations Overview
ASUSTOR NAS is one of the best data backup solutions for Adobe files for either Mac or PC users. Users can easily upload, download and store files in extremely high speed with 10 GbE or 2.5GbE from and to ASUSTOR NAS.
Contents creation and sharing can be easier than ever!
Key Differentiators
ASUSTOR NAS (Network-Attached Storage) is a top hybrid storage product for content creators.
With our 10GbE and 2.5GbE NAS, no matter if you are at home or in your office, you can use Chrome and many other browsers, the SMBA file protocol, or dedicated mobile apps like AiData to connect to your ASUSTOR NAS and backup your Adobe files extremely fast
Adobe Products we support:
Adobe After Effects
Adobe Audition
Adobe Media Encoder
Adobe Premiere Pro
Resources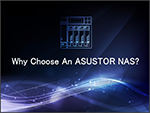 Why Choose An ASUSTOR NAS?