AJA Video Systems Company Overview
Since 1993, AJA Video has been a leading manufacturer of video interface technologies, converters, digital video recording solutions and professional cameras, bringing high quality, cost effective products to the professional broadcast, video and postproduction markets. AJA products are designed and assembled at our facilities in Grass Valley, California, and sold through an extensive sales channel of resellers and systems integrators around the world.
Adobe Integrations Overview
AJA's Desktop Software packages include the default installation plug-ins for your Adobe applications, which are installed automatically. Read the AJA and Adobe QSG document included in the installer packages for specific advice for each application and how to best use them with your AJA hardware.
AJA offers Adobe Creative Cloud application users an ever expanding range of desktop and mobile i/o solutions. Our solutions include a broad range of connectivity for capture, output, monitoring and streaming. With 12G/6G/3G/1.5-SDI, HDMI 2.0, Broadcast IP ST 2110, 2022-6/7, HDMI 2.0 and Component Video connectivity support and continual support of HDR and Deep Color workflows, AJA provides the creative producer with a selection of tools to support their aesthetic needs.
Adobe Products we support:
Adobe After Effects
Adobe Audition
Adobe Premiere Pro
Resources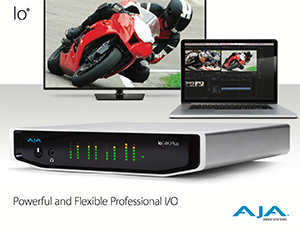 Brochure
Powerful and Flexible Professional I/O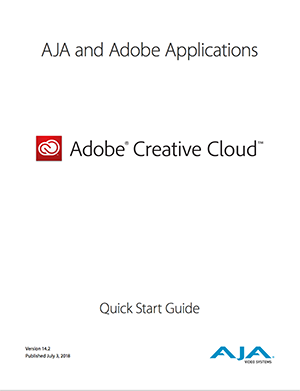 Quick Start Guide
AJA and Adobe Applications