YEPCO Company Overview
YEPCO is an innovative software development company with grand user centric designs on improving the way media production happens. Our metadata management suite for Adobe helps you get more outputs out of your production, collection, archive, and supply workflow.
With automated sport highlights creation, combining data from multiple sources into a single, unified view with focus on automation, systems end-to-end integration, workflow orchestration. YEPCO's core focus is on relieving users from technical operations and workflows, providing tools to ease storytelling, enabling fast content delivery to all your distribution channels.
Adobe Integrations Overview
YEPCO toolset provides the ability to use data to prepare attractive content – beyond the pure figures – for very different channels as quickly as possible. YEPCO Adobe Panels enables a faster and more efficient highlight editing by enabling MOGRTS graphics, audio effects, marker creation, manual logging, sport data feed import support.
Key Differentiators
A sports data feed connector and manual Logger for Adobe Premiere Pro
Browse and search for external media from Adobe Premiere Pro with integrated Panel
Adobe After Effects Motion Graphics support
Create an Adobe Pr Highlights Sequence with integrated graphics layer and background audio in one click
Graphics are automatically created with corresponding actions data such as scores, clock time, player and team name or logos, all configurable
All your bumpers, commercials, logos, Intro, Outro, lower 3rd templates, background audio can be pre-defined per shows
Browse, search, and use for your sequence media files leaving from the Avid MediaCentral platform, Avid NEXIS shared storage and EVS storage
Combine Adobe Premiere Pro Editors into News team
Support remote asset preparation and sequence edits
Support real-time and remote collaboration between Adobe, Avid and EVS users
Review and approval collaboration workflow
Enhanced your media metadata with tags
A standalone and integrated TouchScreen Logger providing remote manual logging for markers creation in Adobe Premiere Pro
Sports and Reality TV production workflow can be automated even further
Support major play-by-play and analytics data feeds from providers StatsPerform, SportRadar, OBS, Sportec Solutions, DeltaTre, SportsInteractive and more
Multi-Language Keywords support (translation)
Adobe Products we support:
Resources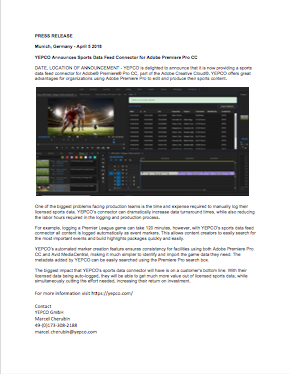 Press Release
YEPCO Announces Sports Data Feed Connector for Adobe Premiere Pro CC