Trint Company Overview
Trint goes beyond automated transcription to provide the world's most collaborative and innovative platform for searching, editing and getting the most out of your content.
Adobe Integrations Overview
Trint's automated transcription software transcribes captions and subtitles for audio and video files in Adobe Premiere Pro CC, allowing users to add text to media files in moments. Trint's panel converts audio and video tracks to SRT and EDL files for easy integration into any project.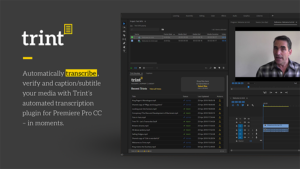 Key Differentiators
Other automated transcription companies don't compare to Trint for a variety of reasons. Direct competitors' feature sets are far less robust than ours: we offer more solutions for a wider range of customers in more verticals. Pricing plans make Trint affordable for individuals without compromising features. Trint Enterprise is unrivaled by direct and indirect competitors, which is evidenced by our recent Enterprise contract with the Associated Press and endorsement in The New York Times ("by far the best automated transcription service").
As well, our Founder and CEO Jeff Kofman brings a strong track record and access to market as a 30-year veteran journalists with CBC, CBS and ABC News as reporter, foreign correspondent and war correspondent. He has won two Emmy Awards. Jeff's profile has given us a huge boost in profile and credibility. His deep understanding of transcription workflow is the foundation on which Trint was built.
Adobe Products we support:
Resources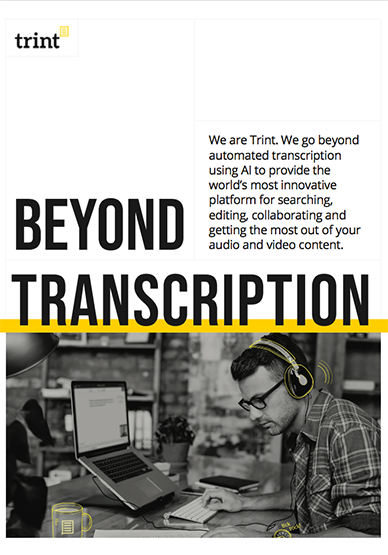 Flyer
Beyond Transcription