ToolsOnAir Broadcast Engineering GmbH Company Overview
ToolsOnAir Broadcast Engineering GmbH, based in Vienna (Austria), introduced the concept of "TV Station in a Mac" and provides broadcast professionals with highly innovative, powerful, and intuitive ingest and playout solutions, running on macOS and/or Linux platforms, to accommodate the daily needs of a TV station or broadcast production facility, while maintaining a cost-effective approach.
Adobe Integrations Overview
The Premiere Pro Markers feature in just:in can be used for all kind of recordings, where the operator needs to mark highlights, scenes or specific actions to speed up the post-production workflow. Additionally, one can define Marker Sets, with different Marker types for event specific recordings.
Key Differentiators
– Our solutions are based on a true client-server architecture
– We provide solutions for both macOS and Linux platforms uniting the power of a macOS frontend with the scalability of a Linux-based backend
– Capture, Schedule, Manage, Caption, Enhance and Broadcast Your Stories with our Production Tools
Adobe Products we support:
Resources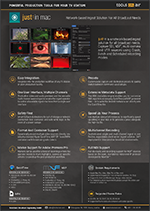 Network-based Ingest Solution For All Broadcast Needs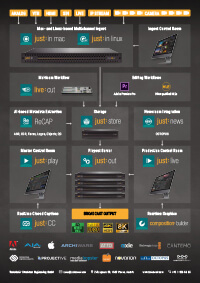 Solutions Overview
Ingest, Schedule, Store, Manage, Analyze, Enhance, and Playout Your Stories with our Production Tools.