HP Anyware Company Overview
Anyware streams highly interactive desktop displays between virtually any host and end-user device to keep people productive and creative from anywhere.
HP Inc. creates technology that makes life better for everyone everywhere — every person, every organization, and every community around the globe. With HP Anyware, you can visualize and interact with media workloads securely from anywhere – studio, home, or on a secret vacation.
HP Anyware provides secured remote access to applications hosted on virtually any IT infrastructure including workstations and cloud or hybrid environments. Built on the same technology that won both HP and Teradici an Engineering Emmy® in 2020, HP Anyware creates a seamless experience for teams to interact with their digital workspaces from virtually anywhere.
Adobe Integrations Overview
The HP Anyware Performance Monitor is a custom plug-in for Adobe Premiere Pro users that produces a panel designed to provide an ongoing status check of your PCoIP session while using Premiere Pro. This panel collects metrics at 10-second intervals, alerting users to unfavorable network conditions which may impact user experience, including video playback frame rate, image quality, and user interactivity when using Adobe Premiere Pro.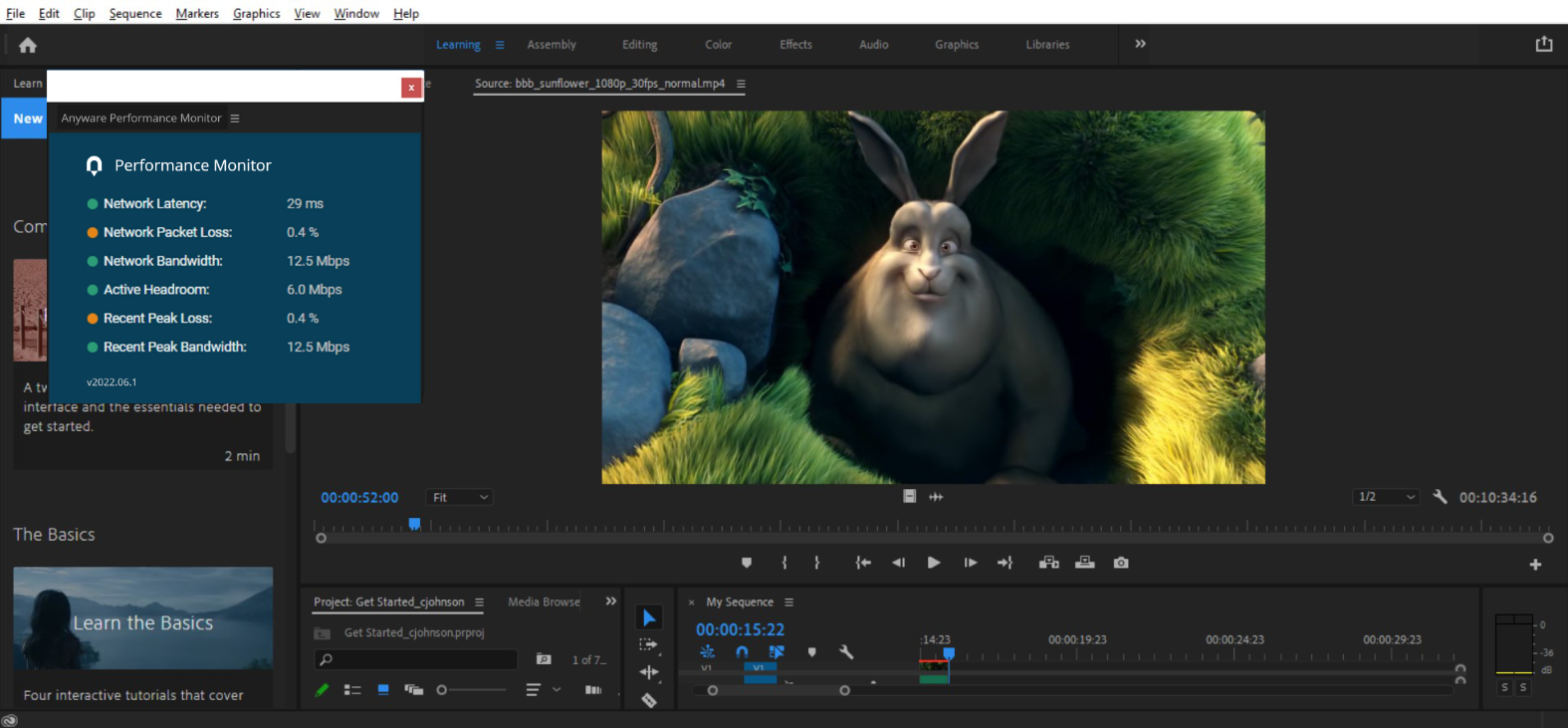 Please see https://docs.teradici.com/tech-preview/teradici-performance-monitor-technical-preview (login required)
Key Differentiators
Keep data safe inside the network and help prevent projects from being lost, stolen, or tampered with as only display information in the form of encrypted pixels gets transferred to and from end-user devices.
Deploy on virtually any mix of host environments, end-user devices, and network infrastructure without a VPN connection.
Deliver world class remoting performance, enabling people to work on even the most graphics and compute intensive applications from wherever they work best.
Enable people and teams to work together in real-time by accessing the same desktop or application from virtually anywhere and avoiding large file downloads.
Easily manage connections to desktops and applications so people have access to their digital workspaces from virtually anywhere and can attach the monitors and peripherals needed to do their best work.
Adobe Products we support:
Adobe After Effects
Adobe Audition
Adobe Media Encoder
Adobe Premiere Pro