Promise Technology Company Overview
PROMISE Technology is a recognized global leader with more than 30 years of experience in the storage industry. PROMISE creates innovative solutions tailored to the unique needs of the Rich Media, Surveillance, IT and Cloud markets. PROMISE's highly experienced sales and engineering teams are strategically located throughout the Americas, Europe, Middle East, JAPAC, and China regions to provide unparalleled services and support to its customers around the globe. For more information, please visit promise.com and follow PROMISE Technology on LinkedIn, Facebook or Twitter.
Read Case Studies:
Aaron Sims Creative – Stranger Things, Wonder Woman, Pegasus3 and SANLink3
VTrak A-Class Case Study San Diego Padres
"Discover the new Promise Pegasus3 R4 & HP ZBook Studio G3" with CC Media
"Unlocking the Potential of Next Gen for Creative Professionals" Promise R8 & HP Z840 Workstation
Adobe Integrations Overview
PROMISE PegasusPro features FileBoost, a proprietary breakthrough technology that facilitates high-performance DAS-to-NAS and NAS-to-DAS file transfer, to support simultaneous playback and editing of 4K/5K video without frame drop. The data in this application note is resulted from a Mac OS X platform connected to PegasusPro R16 in device mode using Adobe Premiere Pro Productions.
Key Differentiators
Superior performance, quality and value: At the heart of PROMISE storage solutions is our commitment to provide customer-oriented solutions with the best cost/performance in the industry. Our commitment to providing cost-effective quality, reliability and support ensures that users around the world know that their data is safe, continuously available and usable within multiple applications, in a variety of markets.
Strong partnerships: PROMISE has built long term relationships with major technology pioneers in the storage industry, including hard disk drive, CPU and server companies. These large multinational companies share their technology roadmaps and vision of the future with PROMISE to develop next generation technology together. This ensures that we always integrate with the latest technology, and develop products that meet tomorrow's market demands.
Outstanding global service: PROMISE enterprise products are backed by an industry-leading system warranty and an extensive global support organization. PROMISE offers email and phone support with highly experienced support professionals, ease to access software updates and online support landing page. In addition, PROMISE also has multiple service offerings that provide further benefits to ensure the ease of mind to our customers.
Adobe Products we support:
Resources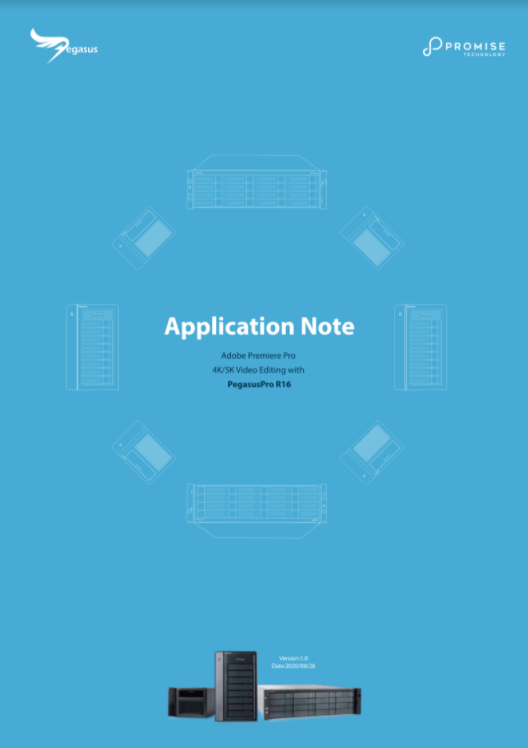 Application Note
Adobe Premiere Pro 4K/5K Video Editing with PegasusPro R16