Matrox Graphics Inc. Company Overview
Matrox Graphics is a global leader in AV/IT technology, offering best-of-breed hardware and software products for OEMs, value-added channel partners, and end users. Its award-winning portfolio of graphics and capture/encode/decode cards, AV-over-IP enterprise encoders/decoders, IP KVM extenders, multiviewers, and display controllers—coupled with flexible, easy-to-use, high-performance software applications and SDKs—delivers world-class content capture, real-time encoding, live streaming and recording, extension and switching, visualization, and control. Serving the Pro AV marketspace, Matrox Graphics is synonymous with quality, performance, support, and partnership.
Learn more: Extio3
Adobe Integrations Overview
Matrox Extio 3 IP KVM extenders enable content creators to centralize their workstations running Adobe software in server rooms, and remotely accessing them over Gigabit Ethernet. Extio 3 enables a scalable KVM matrix over IP, where users can connect and control any system from any remote location on the network.
Key Differentiators
Matrox Extio 3 IP KVM extenders are the world's first IP KVM extenders to deliver 4Kp60 4:4:4 performance—or dual 4Kp30 4:4:4, or dual 2560x1600p60 4:4:4, or quad 1080p60 4:4:4 capabilities—over a standard one Gigabit Ethernet network at unprecedented low bitrates. Redefining IP KVM extension technology, Matrox Extio 3 Series cards and appliances are capable of providing 4K, desktop-quality video using just 5% of the network bandwidth required by the next most bitrate-efficient IP KVM extender, simplifying deployment and management. With exceptional remote performance, smooth video playback, and pristine image quality, Extio 3 Series features the best-in-class resolution support required of professional applications. Extio 3 Series also provides flexible configuration options, supporting copper or fiber-optic cabling in point-to-point or networked KVM operations. Extio 3 readily works with standard commercial off-the-shelf (COTS) network switches that significantly diminishes the total cost of ownership to deliver a scalable, secure, and cost-effective KVM matrix switching solution.
Adobe Products we support:
Adobe After Effects
Adobe Premiere Pro
Resources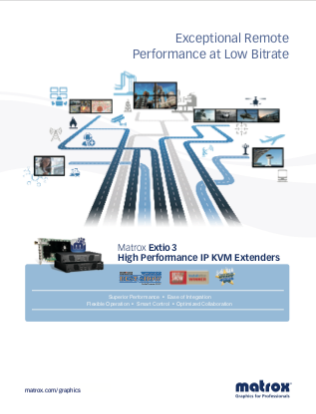 Brochure
Matrox Extio 3 High Performance IP KVM Extenders