MainConcept Company Overview
MainConcept® is a leading provider of video, audio codec and streaming technology, ranging in offerings from core components for integration into professional and consumer applications to highly flexible microservices with MainConcept libraries in pre-packaged containers. MainConcept customers are developing software products or services for video production, multimedia, broadcast, digital signage, medical, and security industries. Since 25 years our engineering teams focus on creating highest quality components for video and audio codecs, enabling best of breed solutions to our customers. With numerous global technology partners, MainConcept is the most trusted brand for high quality broadcast SDKs that meet customers manifold expectations. Our world-wide engineering support team of highly skilled experts guarantees a smooth integration of MainConcept SDKs with fast go-to-market for customer's final products.
Since 1993, MainConcept has provided best-of-breed video/audio codec solutions that fuel creativity and business globally for professional video production, streaming, broadcast, digital signage, gaming, medical and security industries. Our SDKs, transcoding applications and plugins are used across industry verticals to meet an ever-expanding list of use cases. With world-class engineering, exquisite attention to detail, and best-in-class support and professional services, we are constantly innovating to deliver you the simplicity you need with the customer experience you deserve. MainConcept codecs are engineered to surpass the challenges of even the most demanding use cases and are used by hundreds of organizations.
Adobe Integrations Overview
Adobe Creative Cloud products integrate MainConcept's professional Codecs for support of a wide range of ingest and output formats including Sony XAVC, XDCAM or Panasonic AVC Ultra, as well as latest HEVC/H.265 and 360/VR. In addition, Adobe Premiere Pro CC makes use of the highly optimized and frame-accurate MainConcept SmartRender SDK for native editing of compressed video files.
Adobe uses MainConcept's media importer to support MP4/MOV, MPEG TS and MXF-based source files in Premiere Pro, After Effects and Media Encoder. For finishing projects after editing, mixing and color grading, Adobe also uses MainConcept's SDK components for mastering and exporting projects in files with strict adherence to specifications. Adobe Media Encoder delivers a variety of formats with ease and precision enabled by MainConcept's broadcast codecs. With Adobe and MainConcept, content creators can use content from disparate sources and combine it in flexible ways that fuel their imagination, enabling them to realize their artistic vision and to captivate their audience.
Adobe Products we support:
Adobe After Effects
Adobe Audition
Adobe Media Encoder
Adobe Premiere Pro
Resources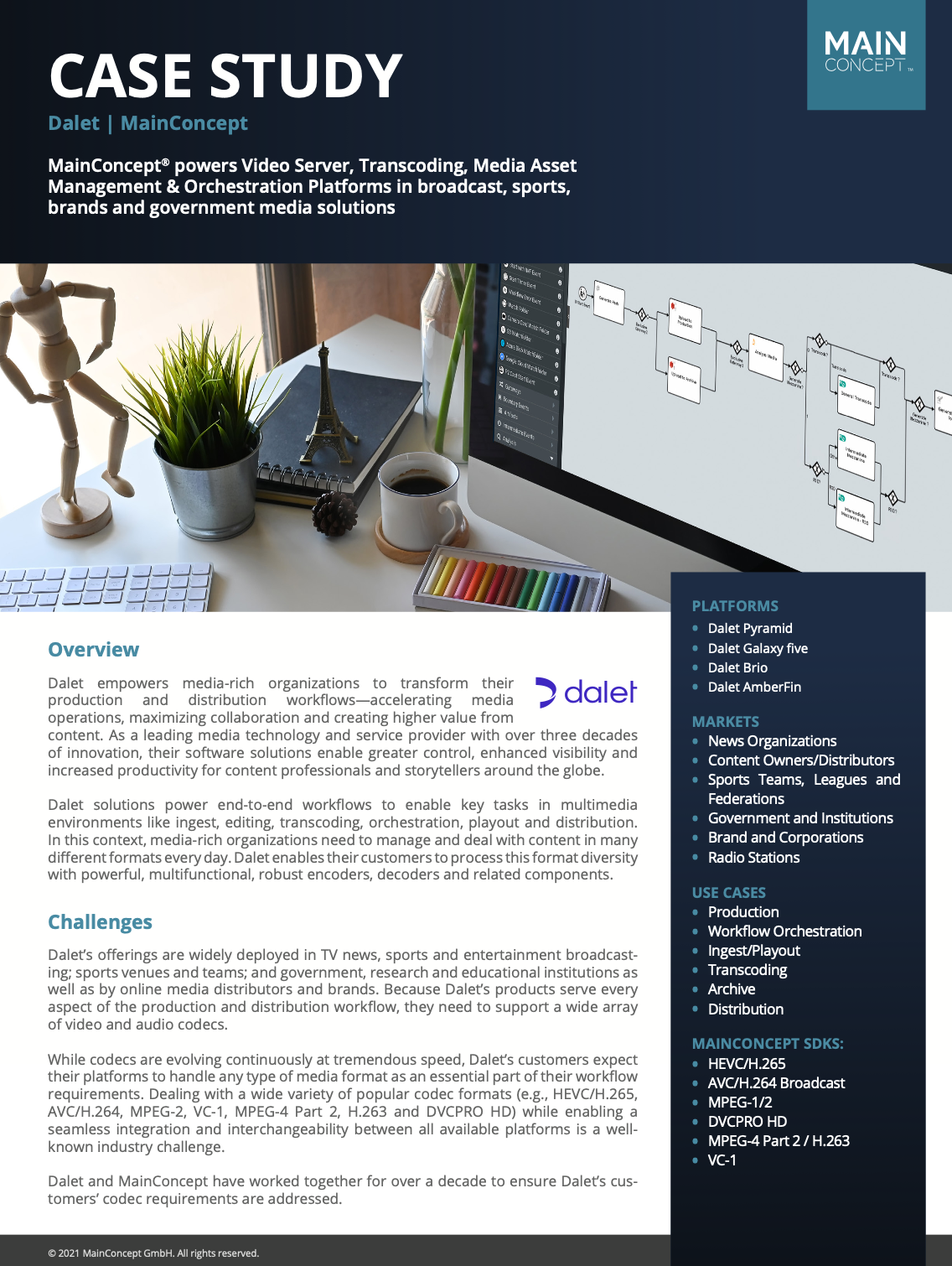 Case Study
Dalet Case Study