IPV Company Overview
Download on the Adobe Exchange 
For over 20 years IPV's media asset management software, Curator, has been helping broadcasters, enterprise brands, creative agencies, academic institutions, sports teams, and Government bodies to create and collaborate on media projects and manage and monetize their live and pre-recorded media assets, from anywhere in the world.
Learn more:
Adobe Integrations Overview
Curator seamlessly integrates with the Adobe editing and workflow environment through the Curator for Adobe Panel, combining the best creative suite with world-class workflows powered by Workfront's project management. The Panel provides direct access to high-resolution and/or streamed 2% proxy copies of all the editor's available assets, helping them to edit remotely from anywhere in the world and stay in creative flow, without ever needing to download any original assets. Through the direct integration with Workfront, Curator helps widen project visibility and keep multiple players on track to create content across channels, at scale.
Adobe Premiere Pro
No matter where you are or who you're working with, Curator's Extension Panel for Premiere Pro makes remote video collaboration easier than ever before.
Adobe After Effects
Create and edit natively within After Effects, and seamlessly share high-res proxies with Premiere Pro users for efficient video collaboration, remotely and locally.
Adobe Photoshop
Create more graphic content by streamlining the production process with Curator's Extension Panel for quicker asset search and storage.
Adobe Illustrator
Expand creative time by easily finding, accessing and storing ai files right inside Adobe Illustrator with Curator's Extension Panel.
Adobe Workfront
Accelerate video production velocity to meet the ever-increasing demand for high-quality video at scale, optimized for every channel.
Adobe Experience Manager
Easily publish content to downstream systems like Adobe Experience Manager.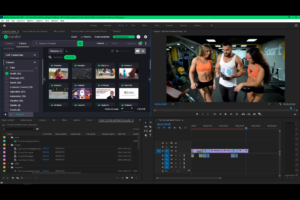 Curator-for-Adobe-Solution-Brief-1.pdf
Key Differentiators
The Curator MAM suite includes:
Intelligent asset ingest with relevant and configurable metadata

Manual and AI-enabled metadata logging of live and pre-recorded assets

An intuitive AI-enabled search and discover portal, accessible through any browser

Advanced analytics

Efficient video planning with templated workflows

Faster video production with automated setup of Premiere Pro projects

Native cloud editing to activate remote workflows

Automated video production to scale across channels

Shortened and remote review and approval

AI speech-to-text services automate metadata and closed captions from video assets

Adobe Products we support:
Adobe Premiere Pro
After Effects
Resources