Infortrend Technology Company Overview
Infortrend Technology is a pure-play Enterprise Data Storage solution provider with 25 years of history and a public listed company (TWSE: 2495) in Taiwan since 2002. In order to deliver the highest quality products and services, Infortrend integrated product development, design, manufacturing, technical consulting / support to deliver a comprehensive solution to our customers and successfully deployed more than 600,000 redundant rack-mounted systems worldwide.
Success stories:
Adobe Integrations Overview
Infortrend offers comprehensive storage solutions EonStor GS/GSe/CS that provide shared storage space for users to store their videos. Users can use NFS, SMB, and FTP to connect their workstations to the storage systems, and share the same storage space which makes collaborative editing more easy.
Key Differentiators
High performance: Infortrend products provide industry-leading performance and bring users an excellent user experience.
Good price performance ratio: Infortrend is an industry price performance leader ranked by Storage Performance Council (SPC).
Offer versatile product line: Infortrend offers SAN, Unified, All Flash, Hybrid Cloud storage, Scale-out NAS to meet the requirement of any kinds of application.
Wide-ranging product series provides entry to high performance: Users can choose the most suitable model based on their performance requirement.
Provide large selections of form factor choices: Infortrend products have various form factors from desktop 5/8-bay, rack-mount 2U to 4U, 12 to 60 bay.
Adobe Products we support:
Adobe After Effects
Adobe Audition
Adobe Media Encoder
Adobe Premiere Pro
Resources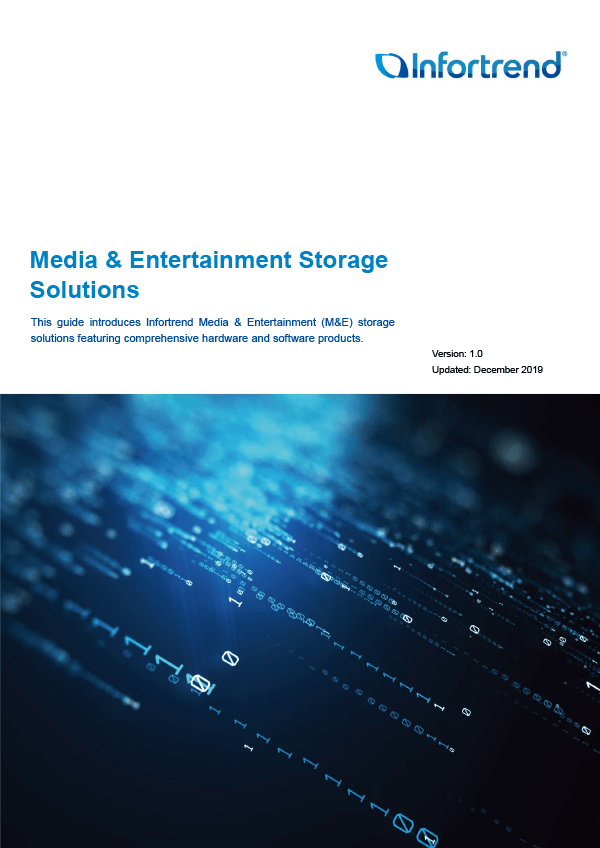 Media & Entertainment Storage Solutions
This guide introduces Infortrend Media & Entertainment (M&E) storage solutions featuring comprehensive hardware and software products.