iconik Media AB Company Overview
iconik is a cloud-native, SaaS media asset management (MAM) solution designed so that users can share files from any cloud or on-premise storage, collaborate on video projects, and enrich media with AI for high searchability. With no minimums, no commitments, and consumption-based pricing, iconik can scale to serve solo creators or large global teams. Out of the box, iconik provides feature sets for media management, post-production, review & collaboration, and automation.
Learn more:
Pricing
Video Collaboration App | Review and Approval
Made for the Hybrid Cloud
Why iconik is different from other MAMs
Case study: Feature Film Production
Adobe Integrations Overview
Search, preview, and open iconik files
Upload rendered sequence to iconik
Bulk Upload
iconik comments saved as Markers
Support for Motion Graphic Templates
Project/Files Management
Proxy-edit Workflows
Resolve Missing Originals
Resolve Missing Proxies
Sequence Management
Upload non-iconik project files to iconik
And more: https://app.iconik.io/help/pages/adobe/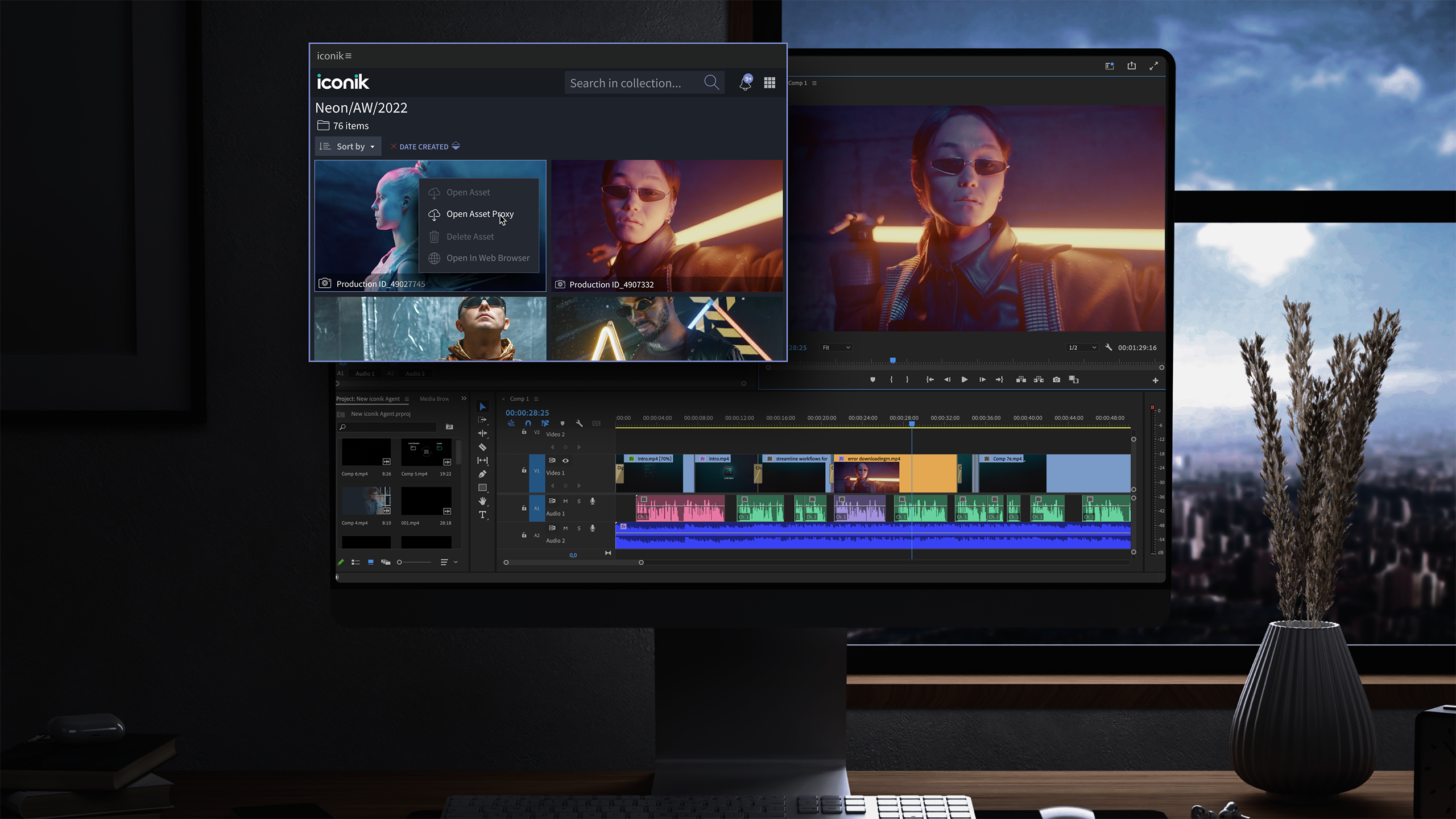 Key Differentiators
Creators needed another kind of media management experience, so iconik was born. Everything from iconik's business model to its feature sets for collaboration has been built to be flexible and accessible.
Cloud-Native
iconik is a cloud-native media management and collaboration solution built for the hybrid cloud. That means you can manage media from every cloud and on-premise storage in one place. We make sharing and creating on media possible from anywhere.
Pay-as-you-go
It doesn't matter how large or small your organization is, iconik offers an unlimited number of users with its subscription-based, pay-as-you-go pricing model. With fair billing, you'll never pay for inactive users. There's no minimum and no commitments required to start, so you can start small, think big, and scale when you're ready.
Bring Your Own Storage
That's right, you can bring almost any existing online cloud storage or on-premise storage and connect it to iconik. This will not duplicate content, but it will index everything in the cloud and send smaller proxy files to iconik for instant searchability and preview. If you have invested in structuring your data hierarchy, iconik will preserve your folder structures as collections.
Review & Approval
Reviewing and approving content is simple in iconik with approval workflows, time-based comments, and draw-on annotations. Admins have granular control over user and group access to every part of iconik— including assets, collections, and metadata.
Media Enriched with Data and Intelligent Searches
Extremely detailed, time-based tags for video can be added automatically in seconds with AI auto-tagging or AI transcriptions. With our intelligent search technology, users can find media quickly by refining results with free text searches or by filtering any number of technical or custom metadata tags.
A Platform for Media Workflows
iconik is also a platform where you can build and streamline media workflows. With a fully configurable API, custom actions, and webhooks, you can exchange data between services, automate processes, or make iconik look and act however you want.
iconik is easy to use, powerful, affordable, and beautifully designed, making it the smartest media management solution on the market today.
Adobe Products we support:
Adobe After Effects
Adobe Audition
Adobe Premiere Pro