GIGABYTE Company Overview
A global leader in the PC industry, GIGABYTE offers a comprehensive product lineup that aims to "Upgrade Your Life." With expertise encompassing consumer, business, gaming, and cloud systems, GIGABYTE uses research and innovation to consistently meet user needs. GIGABYTE is renowned for award-winning products including motherboards, graphics cards, laptops, mini PCs, and other PC components and accessories. As an expert in PC technology, GIGABYTE is poised to extend our scope in business servers and cloud systems with hardware and software solutions that integrate AI and AloT applications to develop the ideal infrastructure for future prospects in 5G.
Adobe Integrations Overview
GIGABYTE AERO laptop features X-Rite™ Pantone® calibration technology. Each and every panel gets individually color calibrated, offering the perfect color reference to ensure your creations are represented exactly how you expect to see them.
Key Differentiators
-Color accuracy: Each and every panel fitted on the AERO laptop gets calibrated with X-Rite™ Pantone® technology before it leaves the factory, giving you perfect color accuracy of Delta E < 1. -Visual: First laptop featuring AMOLED display with thin-bezel design. -Optimized performance: With the Microsoft Azure AI, users can have optimal performance without sacrificing mobility. -Premium components: Intel CPU, NVIDIA GPU, Samsung DRAM, Intel SSD, and more. -Made in Taiwan: The AERO series laptops are designed and made in Taiwan.
Adobe Products we support:
Adobe After Effects
Adobe Audition
Adobe Media Encoder
Adobe Premiere Pro
Resources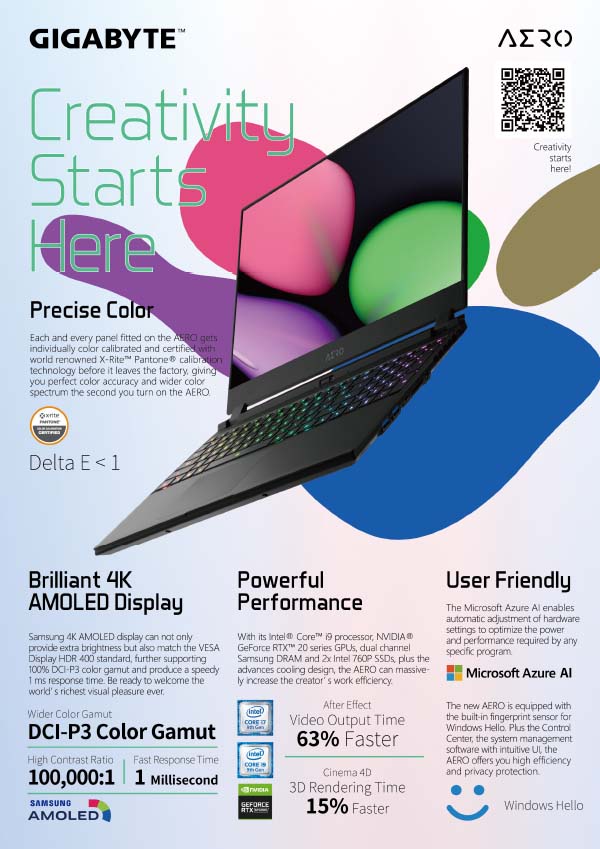 AERO Brochure