Filmstro Company Overview
Filmstro enables you to create professional, royalty free Soundtracks directly inside your favorite video editor. Key frame your music and sync soundtracks with ease to your videos. No musical experience necessary!
Watch: Filmstro Standalone Tutorials
Adobe Integrations Overview
Filmstro is available as an integrated Adobe Panel within Adobe Premiere Pro CC and allows full Soundtrack creation directly within Premiere Pro, including real time keyframing, auditioning and rendering.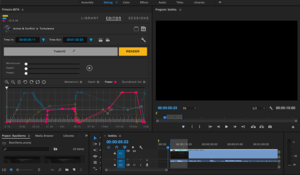 Key Differentiators
Filmstro is the first soundtrack creation software for non-musicians.
Adobe Products we support: