Dell, Inc. Company Overview
For 20 years, Dell Precision has been delivering innovative, high-performance workstations to meet the needs of creators and designers. As a result, Precision is recognized as the #1 workstation brand in the world. From award-winning filmmakers and animators to architects and engineers, our expansive portfolio enables you to customize your workstation for your creative expertise.
Adobe Integrations Overview
Your vision knows no bounds with the power of a Precision behind your biggest projects. With a range of scalable workstation solutions—including a 2-in-1 and mobile, tower and rack workstations—there's a Precision to turn any impossibility into a reality.
Dell partners with Adobe to solve today's most complex problems in Media and Entertainment computing. By providing certification with Adobe Creative Cloud Dell Precision Workstations are tested to ensure that the high-performance applications you work with every day, run smoothly and reliably.
Key Differentiators
Optimized Performance: Dell Precision Optimizer offers custom performance tuning for your system.
Front of Screen Experience: 4K, 8K and HDR resolutions, Adobe color, Infinity bezels, Touch enabled systems.
Memory Reliability: Dell patented Reliable Memory Technology Pro that minimizes errors and maximizes uptime.
New Storage Technologies: Dell PCIe SSDs offer best in class price & performance.
Smart Design: Award winning Industrial designs, easily serviceable, best thermal & acoustic performance.
Complete Ecosystem: The most comprehensive ecosystem of docks, accessories, and solutions.
ProSupport Plus: World-class support offerings with proactive issue detection and failure prevention.
Adobe Products we support:
Adobe After Effects
Adobe Audition
Adobe Media Encoder
Adobe Premiere Pro
Resources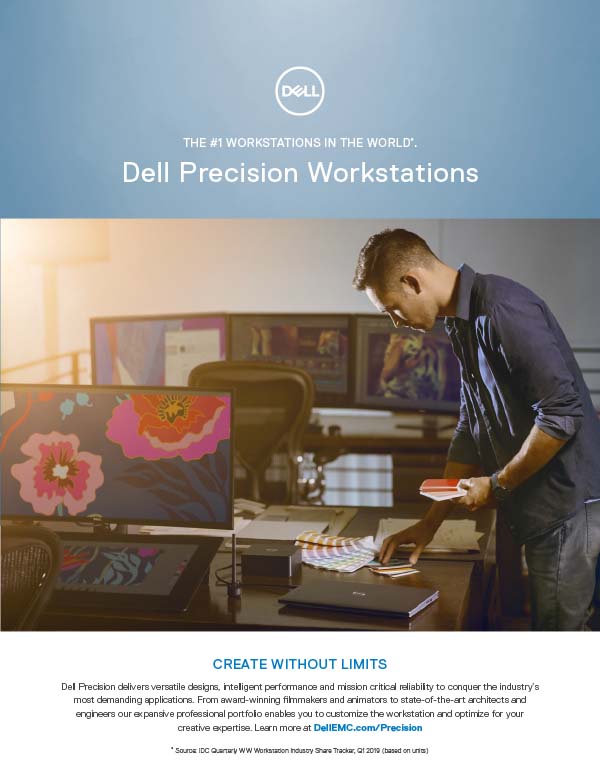 Brochure