Deepdub Company Overview
Deepdub GO
Deepdub brings Hollywood grade localization at your fingertips. Using the Deepdub GO platform in your browser, seamlessly transcribe, translate, collaborate and generate synthetic voices for your videos. With cutting edge deep learning technology, use emotional prompts to bring your synthetic voices to life in any language – they can read, shout, be amused or spontaneous. You can easily mix, edit the dialogues and make the necessary changes to generate a localized version of your video. Use markers and comments to collaborate with your team. Finally export the entire project to Adobe Premiere Pro to continue with your editing work.
Deepdub GO works on Chrome browsers.
About the company
Deepdub is the leading AI-based audiovisual dubbing and language localization company. Deepdub aims to bridge the language barrier and cultural gap of entertainment experiences for international audiences across TV, Film, Advertising, Gaming, e-Learning, Creators, Influencers and more. We provide a high-quality, end-to-end localization service that uses deep learning and AI algorithms. Deepdub GO is an AI-powered audio-video localization and creation platform that uses our proprietary generative AI technology, initially developed for the entertainment industry and used in collaboration with Hollywood studios on dozens of films and television projects.
Check out https://deepdub.ai for additional details.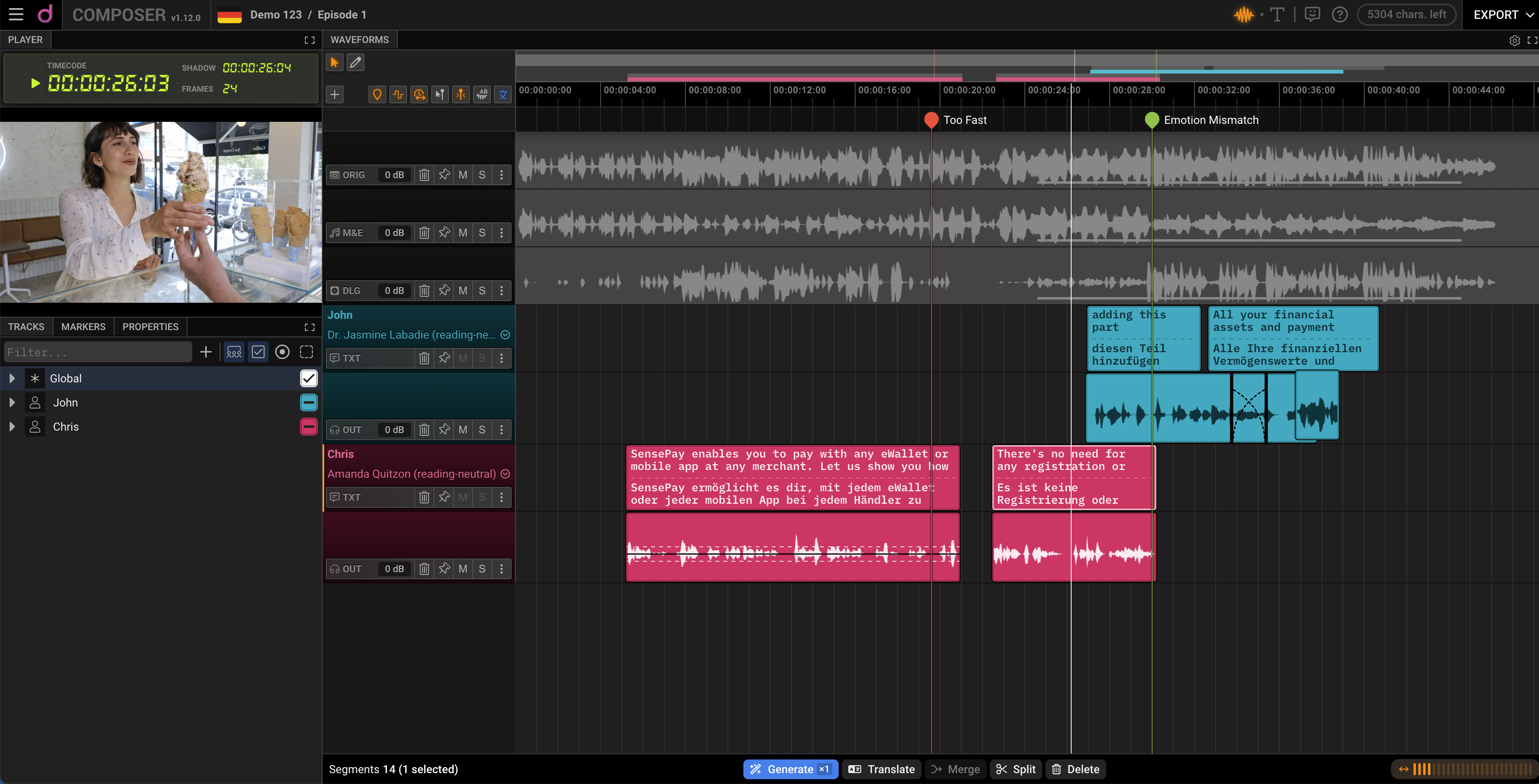 Adobe Integrations Overview
Import generated synthetic dialogues to your Adobe Premiere Pro projects.
Key Differentiators
Emotion Prompting : This unique feature allows users to control the emotional expressivity of their content, ensuring maximum impact and engagement.
Realistic, Humanlike Voices : The platform can generate voices that are realistic and humanlike, enhancing the overall quality of the dubbed content.
Voice-Guiding Technology : This technology enables users to edit the dubbed voices as per their requirements.
Speed and Affordability : Deepdub GO delivers professional-grade dubbing more affordably and rapidly than traditional methods.
Control Over Speech Duration and Word Count : The platform offers advanced features such as controlling speech duration and word count to achieve automatic synchronization with lip movements.
User-Friendly Interface : The Deepdub GO platform allows users to effortlessly upload their videos, select the desired video style, and target languages.
Auto-Transcription, Auto-Translation: Deepdub GO automatically transcribes and translates your videos within minutes. Just sit back and watch as your video is being processed and analyzed. Then easily make any adjustments you feel necessary to the text.
Adobe Products we support:
Adobe Audition
Adobe Premiere Pro