Chesapeake Systems Company Overview
Chesapeake Systems is a full-service provider of technology systems and creative workflow solutions. We excel in optimizing media workflows from creation to distribution and preservation. Chesapeake's expert architects design pioneering solutions that enable your creative team to excel in productivity while driving efficiencies in IT. This is all backed by steadfast customer support. Dedicated to long-term relationships as trusted partners, Chesapeake offers a rare level of passion and understanding in the design, development and maintenance of secure, high-performance media asset management solutions (MAM/DAM/PAM). Our services include storage, backup and archival systems, workflow automation, cloud platforms, media transcoding, delivery, API integration.
Adobe Integrations Overview
Chesapeake Systems' engineers are Adobe creatives as well. Our products and services are designed to work specifically with all Adobe products and are vigorously tested in challenging environments. Specializing in API integration allows us to make certain Adobe products and our custom-designed systems work in harmony.
Chesapeake Systems has had multiple Adobe product integrations with great success. In all cases, Chesapeakes' tight API integration has proven effective and efficient, all while adhering to the client's security and compliance policies. Chesapeake makes certain that the creative teams will continue to have the ability to utilize their Adobe products as intended and at maximum performance.
Key Differentiators
We take responsibility for complete M&E workflow design and management, from consultation to design, installation and support, including situations with multiple vendors/subcontractors.
As leaders in understanding and assessing media technology needs, we prepare clients for future asset demands, and develop systems that optimize workflow.
As experts in devising intricate and complex media workflows associated with creating, manipulating, reviewing, archiving and distributing content, we have unparalleled passion and expertise in systems design and execution that serves the creative process.
Adobe Products we support:
Adobe After Effects
Adobe Audition
Adobe Media Encoder
Adobe Premiere Pro
Resources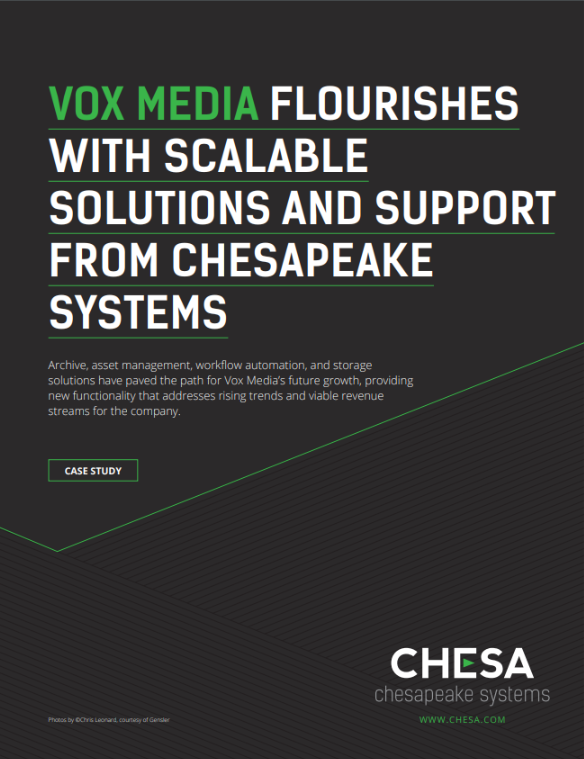 Case Study
Vox Media Flourishes with Scalable and Support from Chesapeake Systems