Brainstorm Company Overview
Brainstorm is a specialist company dedicated to providing industry-leading real-time 3D graphics, augmented reality and virtual set solutions for all broadcast graphics types and workflows, as well as for feature film production and corporate presentations. With thousands of installations worldwide since its foundation in 1993, Brainstorm's customer list includes many of the world's leading broadcasters plus a large number of smaller and regional stations. With headquarters in Madrid and Valencia (Spain) and subsidiaries in the US and Asia, Brainstorm is a company with a global reach and committed to innovation that allocates 25% of its annual income to R&D.
Brainstorm is focused on assisting our clients to create highly engaging visual experiences for their viewers, and our vision is to provide the best possible graphics package and services, while ensuring they are fast, reliable and the best fit for the job at hand. That is why Brainstorm is committed to further develop its leadership in real-time 3D Graphics Technologies, one of the core values of the company, all summarized as follows:
Leadership in 3D real-time technologies.
Reliability and integrity in business.
Customer orientation, ability to build long-time relationships with customers, resellers and users.
Complete service from design to implementation.
Brainstorm's flagship product eStudio is unique in the market due to its sophistication, open architecture and versatility, enabling both design and real-time playout of virtual studios and 3D graphics as well as the easy creation of customized products and applications.
Other Brainstorm products are:
Brainstorm is committed to good business practices to be a reliable partner both for resellers and final customers. This commitment is reinforced with the creation of the Production Services Department that allows Brainstorm customers to enjoy state-of-the-art production services, content creation and training. Brainstorm's production arm today provides an end-to-end graphics production service enjoyed by many of the world's leading broadcasters. The importance of compelling graphics is paramount, but the ability to provide them in a way that is accessible to all who use them, very often required on a moment's notice to cover fast-breaking news and analysis, is one of the key strengths of Brainstorm Production Services.
The trajectory of the company and its products has granted significant recognitions, including the Berlanga Award for Technological Innovation, the 2007 European Seal of e-Excellence given by the EMMAC, the 2009 European Business of the Year, the 2011 IBC Innovation Award, the 2013 Innovation Award of the Spanish Computer Society, the 2015 IABM Game Changer Award and many more. Brainstorm is also member of the IABM (International Association of Broadcast Manufacturers) and the NAB.
Adobe Integrations Overview
Brainstorm has developed plugins to allow the export of Photoshop files with layers, Illustrator vector paths and After Effects projects into the Brainstorm ecosystem. They translate the Adobe files so they can be opened using Brainstorm's real-time 3D graphics and virtual set solutions, allowing for a more flexible broadcast workflow.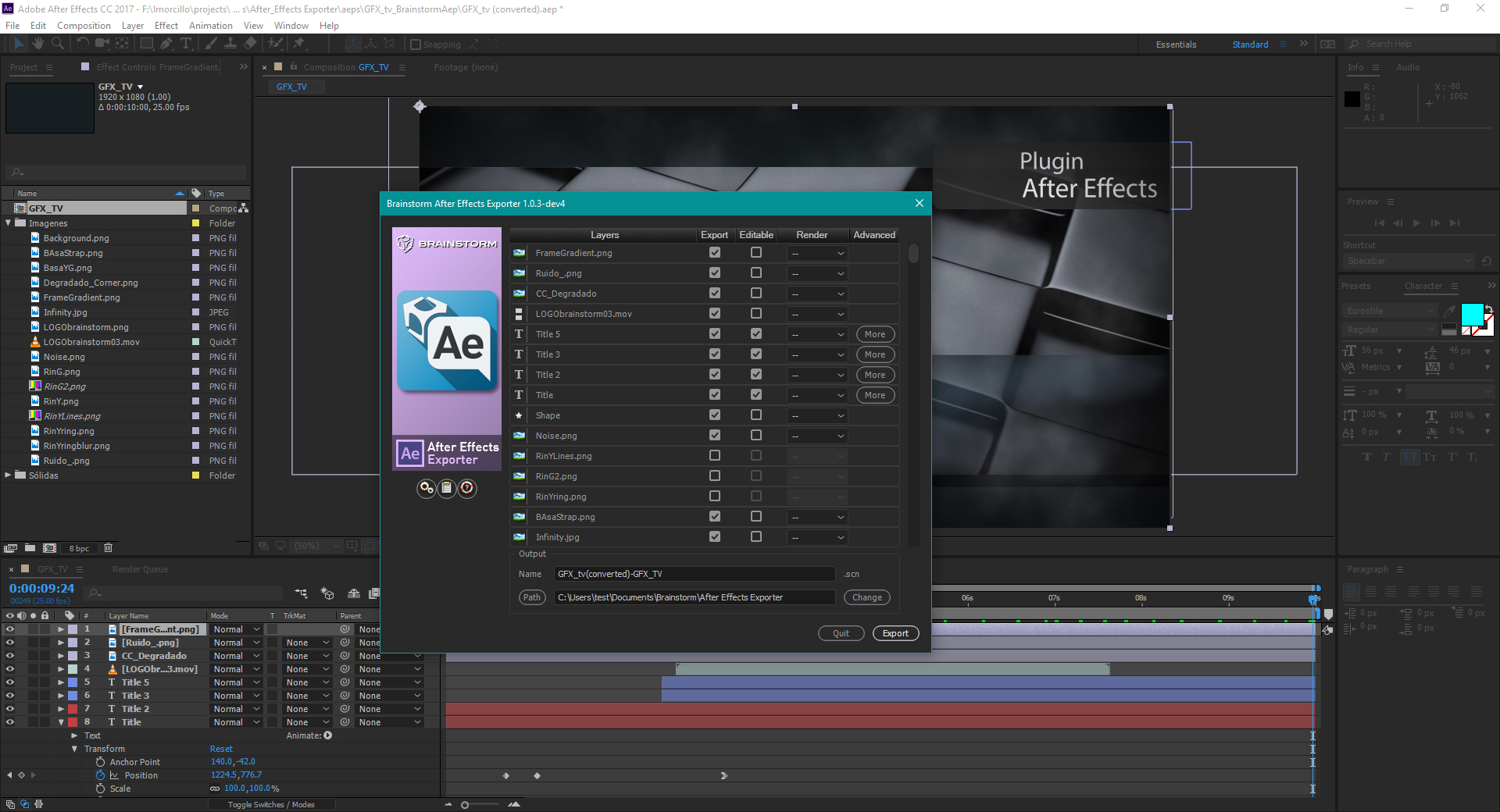 Key Differentiators
Anything can be accomplished with Brainstorm InfinitySet, from simple virtual sets with fixed cameras to advanced and complex productions involving tracked cameras, external feeds with embedded tracking data and data driven graphics interacting in real-time with the set and the talents. InfinitySet's advanced technologies are also user-friendly, providing the best tool to create amazing programs that engage viewers.
InfinitySet is the most advanced virtual set solution thanks to the patented TrackFree technology. With advanced compositing features, it allows users to create fully realistic real-time 3D scenes with elements that behave like those of the real world. InfinitySet is a complete real-time 3D Graphics tool, as it can embed all the power of Aston, Brainstorm motion graphics creation, CG and play-out solution, within the virtual set environment.
Brainstorm's experience of nearly 25 years in producing advanced 3D graphics and virtual sets is concentrated in InfinitySet, which provides state-of-the-art Augmented Reality features used daily by broadcasters all over the world to create astonishing shows using virtual sets and graphics.
Along with a tight integration with Aston, InfinitySet provides a wide range of features such as remote control of external light panels, which allowed to change the lighting conditions of the real set to match those of the virtual set, adding further realism to the content generated by the system, using the Brainstorm Combined Render Engine with Epic Game's Unreal Engine. InfinitySet also demonstrated real-time DMX control over external chroma keyers, which is also essential when light conditions change, and therefore better adjusts the chroma keyed characters.
Suite 5.1, the latest version for Brainstorm's flagship products, includes new, unique, and enhanced features designed to improve XR content creation and workflows, while adding an even tighter integration with Unreal Engine. These enhancements streamline the ability of users to improve their virtual content creation regardless if they are using LED walls or chroma sets to produce their virtual content.
Suite 5.1 has a dedicated interface for creating XR installations, which allows for modelling any kind of video wall, including curved, shaped and corner installations, and map the desired 3D content in such model. This facilitates the creation of virtual AR content to be directly displayed and seen by the camera with the correct perspective at all times. Also, by taking advantage of the Layers and Stacking features of InfinitySet, different renders, even with different resolutions and aspect ratios, can be mapped in a canvas of any size and aspect.
Suite 5.1 is fully compatible with Unreal Engine 5, Epic Games' latest development of its render engine, and it also features a new, redesigned internal chroma keyer that includes a new mode that embeds the Unreal Engine chroma keyer directly into InfinitySet. Taking advantage of all the new features present in UE5, Brainstorm also features full integration of objects created in InfinitySet or Aston within the UE environment and vice-versa, providing unmatched flexibilityfor content creation.
Some other features are included, like improved HDR workflows, and better integration with robotic heads from manufacturers such as Panasonic or Sony. On top of that, InfinitySet's differential chroma keyer has been improved to seamlessly work with moving tracked and robotic cameras, and not just with TrackFree™ productions. Suite 5.1 also enhances the new features designed to enhance XR content creation and workflows, stramliningthe users' ability to improve their virtual content creation, no matter if they are using LED videowalls or chroma sets to produce virtual content.
Adobe Products we support:
Resources
Neuron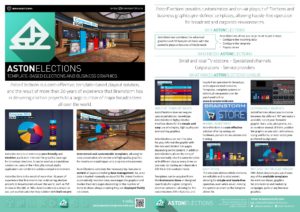 AstonElections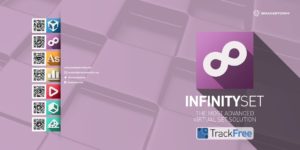 InfinitySet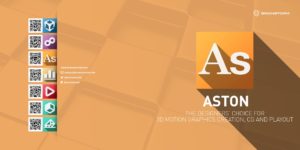 Aston