ATTO Technology, Inc Company Overview
For over 35 years, ATTO Technology, Inc. has been a global leader specializing in network and storage connectivity and infrastructure solutions for the most data-intensive computing environments. ATTO works closely with its partners to create the world's best end-to-end data delivery, management and storage solutions. ATTO manufactures host adapters, SmartNICs, storage appliances and controllers, intelligent bridges, Thunderbolt™ adapters, and software. ATTO solutions enable high-performance connectivity to all storage interfaces, including Fibre Channel, SAS, SATA, iSCSI, Ethernet, NVMe and Thunderbolt. ATTO is the Power Behind the Storage.
Adobe Integrations Overview
ATTO Technology develops innovative storage and network connectivity solutions that work with Adobe Creative Cloud tools to maximize workflow efficiency and creative output. ATTO Fibre Channel and SAS HBAs, Thunderbolt Adapters, SmartNICs, and NVMe Switch Adapters offer super low-latency, high-bandwidth data transfers for Adobe media production applications: Adobe Premiere Pro, Adobe Audition, and Adobe After Effects.
Key Differentiators
ATTO custom-engineered drivers are optimized for content creation workflows. Advanced Data Streaming (ADS) Technology manages latency to provide controlled acceleration for smooth data streaming to maintain the highest consistent performance. ADS ensures best-in-industry data transfers for high-bandwidth applications, which means better performance for end-users. ADS technology is built into all ATTO hardware. When Adobe Creative Cloud users choose ATTO for connectivity, ADS is the technology that helps them ingest more footage and playback more clips so they can enjoy more productive edit sessions and team project collaboration without interruptions due to dropped frames or data bursts.
Adobe Products we support:
Adobe After Effects
Adobe Audition
Adobe Premiere Pro
Resources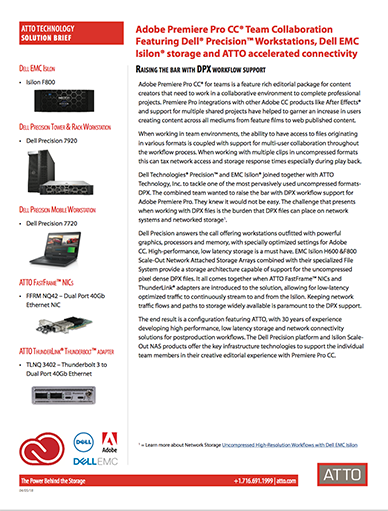 Solution Brief
Adobe Premiere Pro CC® Team Collaboration Featuring Dell® PrecisionTM Workstations, Dell EMC Isilon® storage and ATTO accelerated connectivity