Apace Systems Company Overview
Apace provides turnkey solutions for Adobe Creative Cloud production workflows, media asset and storage management (MAM/PAM). As a single vendor, Apace guarantees end-to-end working results. Apace enables integrated solutions and global/remote multi-site media/video editing with distributed collaboration direct from Adobe panels. Apace also offers software as service (SAAS) on the edge or the cloud with unique single virtualized view for managing globally scattered enterprise media data, online or offline. Our versatile solutions serve corporate enterprise, M&E, government, house-of-worship, and education markets.
Adobe Integrations Overview
Apace offers fully integrated MAM/PAM panels for Adobe Premiere Pro CC/Team Projects and Adobe After Effects CC, providing search, workflow automation, and media and storage management direct from Adobe Creative Cloud user interface for these applications to be accessible workspaces from virtually anywhere.
Apace offers complete global remote video editing workflow support for editors accessing one or multiple sites as well as data in the cloud, direct from Adobe Premiere Pro CC/Team Projects user interface. This unique offering enables Adobe Premiere Pro CC video editors to connect in a scalable way to any media data pool from anywhere. Apace offers additional MAM/PAM/workflow services to these users from the offered panels for Premiere Pro and After Effects. The QoS of access is assured over LAN/WAN networks.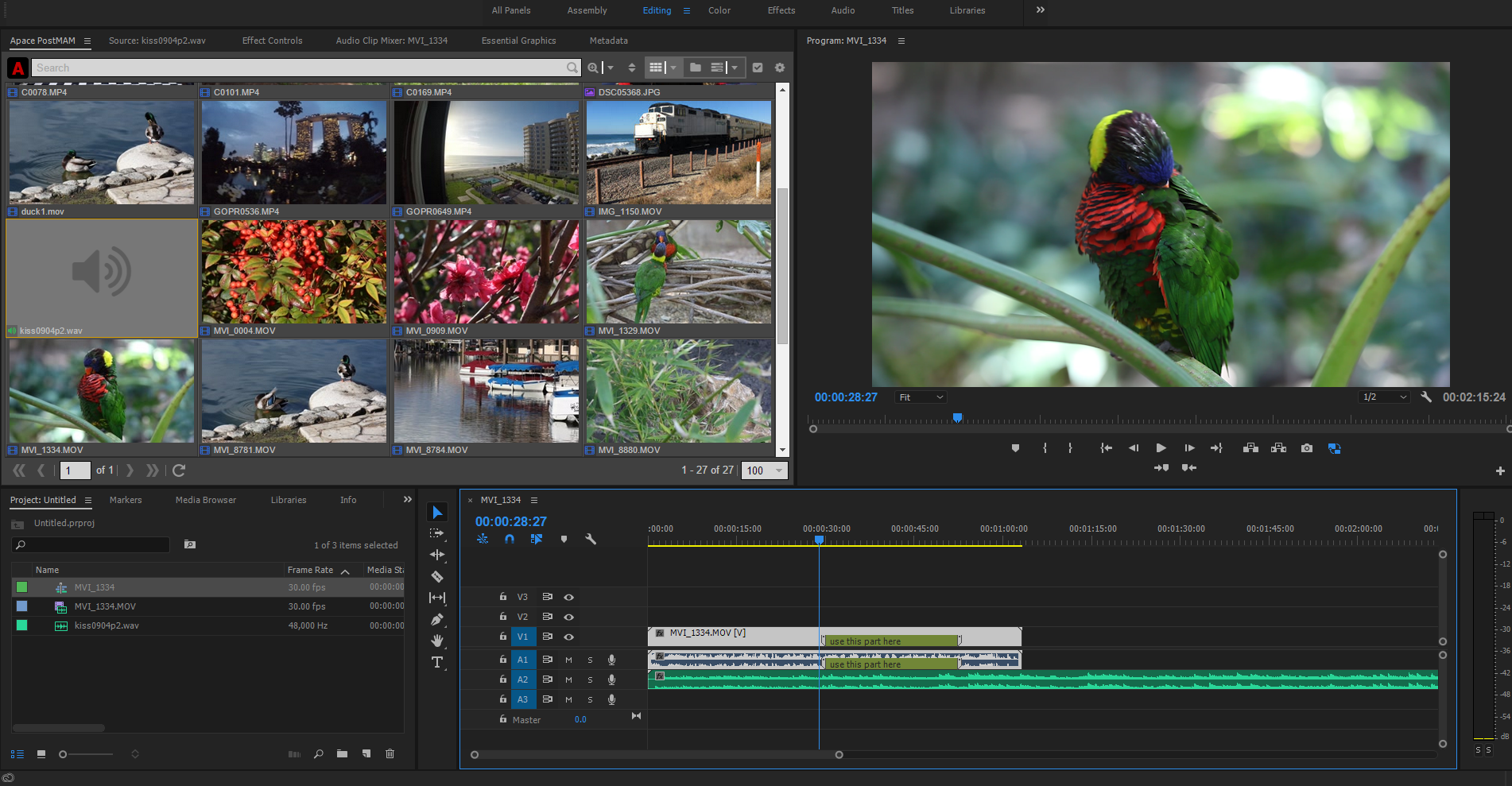 Key Differentiators
Turnkey workflow solutions for global remote editing and distributive data management on premise with a multi-site and cloud deployment in support of Adobe Creative Cloud video products and Team projects.
Adobe Products we support:
Adobe After Effects
Adobe Media Encoder
Adobe Premiere Pro
Resources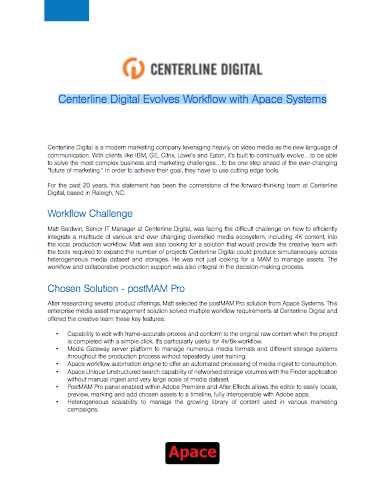 Customer Case Study
Centerline Digital Evolves Workflow with Apace Systems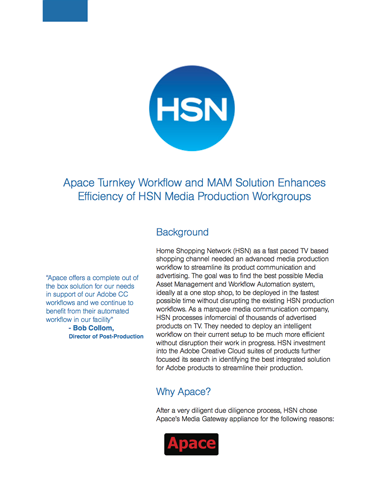 Customer Case Study
Apace Turnkey Workflow and MAM Solution Enhances Efficiency of HSN Media Production Workgroups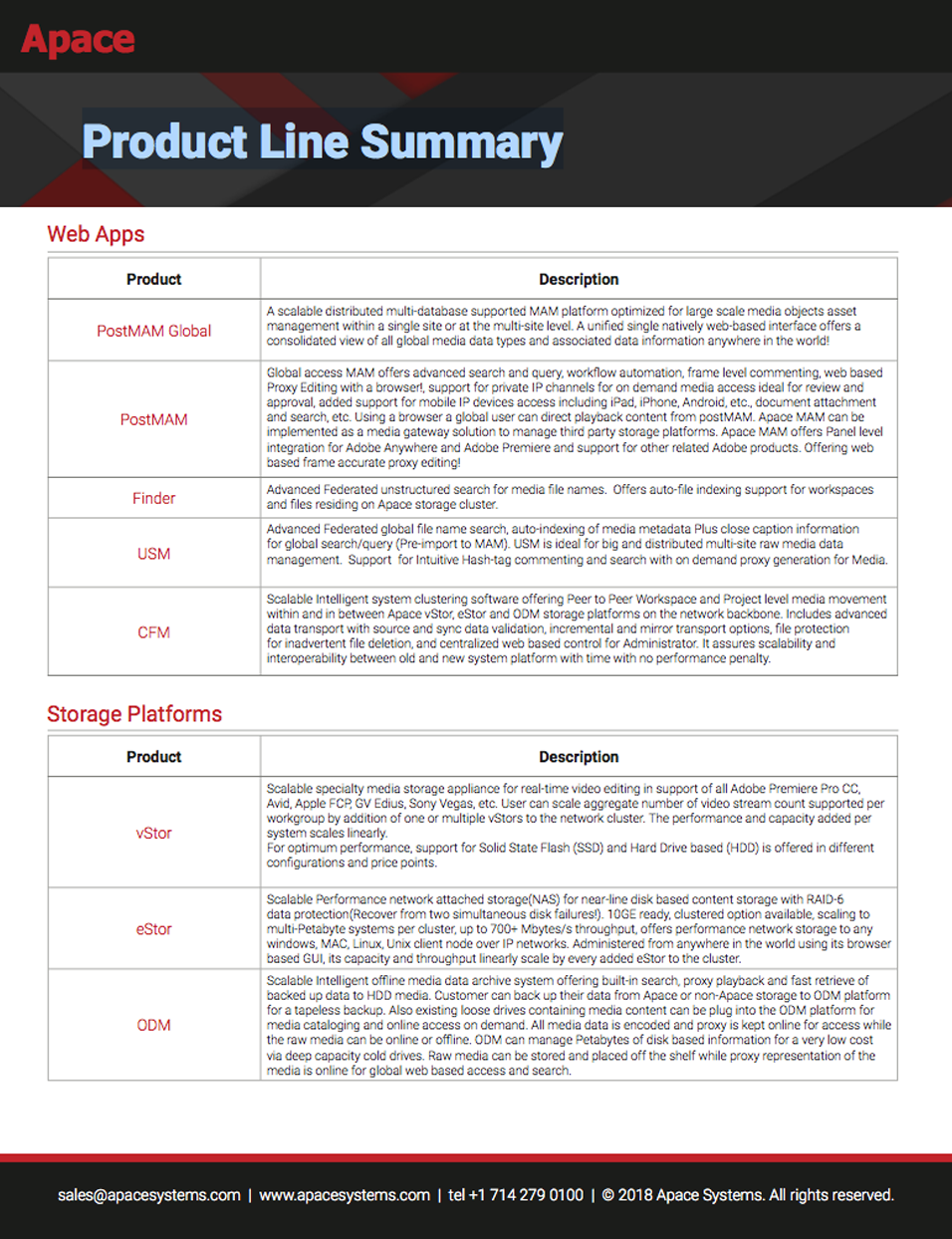 Product Line Summary