Projective Technology (formerly FlavourSys) Company Overview
Projective Technology GmbH is dedicated to revolutionizing how content production happens. By focusing on the creative user and providing innovative technical solutions to production storage problems, Projective offers a fundamentally different approach to production storage and editing projects
Projective and its flagship product Strawberry, a Production Asset Management solution, is all about the project in the workflow: Project sharing, controlling project access and managing project storage, everything creative media producers need to make those project workflows work for them.
Strawberry is used by broadcasters, post production houses, ad agencies, film schools and sports clubs all over the world.
Learn more:
Adobe Integrations Overview
STRAWBERRY provides scrubbable proxy previews of all the content that can be viewed from the panel extension into Adobe Premiere Pro CC and Adobe After Effects CC. The panel allows editors or VFX artists to stay within their applications, importing high-res files with the click of a button and browsing through content on the shared storage.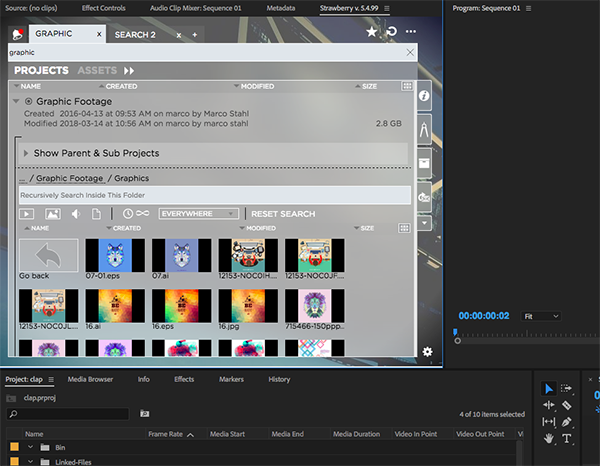 Key Differentiators
Strawberry was developed by creative media producers for creative media producers; therefore, it is easy to learn and intuitive to use. Strawberry can be fully integrated into the Adobe Creative Cloud video products: Adobe Premiere Pro and After Effects, so editors or special effects artists don't have to leave their applications when managing their assets. Strawberry also enhances team collaboration and fully supports Adobe Team Projects. FlavourSys' production asset management solution is independent from any shared storage hardware.
Adobe Products we support:
Adobe After Effects
Adobe Premiere Pro
Resources
Doner Advertising Case Study
STRAWBERRY helps Doner to create "Audacious Things for Ambitious Brands"